Serve
---
Connecting with God and others through serving
A great way to live with eternal significance is to serve others in ways God has wired you.
North Heights offers serving opportunities for all age groups. Indicate your availability and area of interest by emailing .
Over 252 hungry people in our community came to the December 2020 Ruby's Pantry food distribution at North Heights. Will you help us serve the growing need the second Saturday of every month?
RUBY'S PANTRY—FOOD DISTRIBUTION
Second Saturday of each month, Arden Hill Campus
This ministry distributes food to members of the community. Volunteers needed to unload trucks early morning the day of the event, or load food distributions into cars during the event. If you are able to help, all volunteers, whether you have volunteered in the past or not, must fill out Ruby Pantry's Volunteer Application (select "Arden Hills" as site location) and email .
Event

Seed Sowing Saturday

Saturday, March 6, 10am to noon, Arden Hills
Did you know that natural MN grasses block 80% of the light to reach the ground and prevent the spread of invasive Buckthorn trees? Plus, natural MN grass seed can be harvested and sown at other areas of the campus. As a community, we will come together for a spiritual seed sowing time of devotions and reflect on Scripture while we sow prairie grass seed to minimize the spread of Buckthorn in the wooded areas of our Campus. Volunteers of all ages are needed. This would be a great spiritual and practical experience for the whole family. Seed sowing can be done on snow cover or without snow. Masks will be required while we gather for instructions, devotion and prayer by the playground area. Contact Mark Gregory at 651-208-6248. Details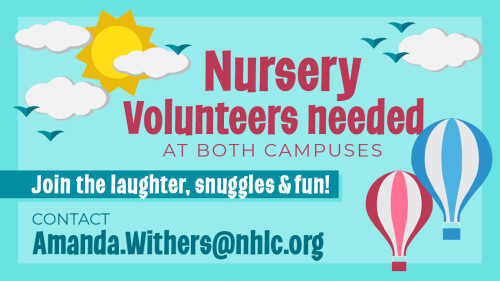 Widow's Ministry Group
The death of a spouse is one of the biggest stressor in one's life. It introduces overwhelming grief and change in routines, finances, households and relationships. North Heights is eager come around our Widows with love, support and care and launch a Widow's Ministry Group in March. If you are interested serving those who have recently lost a husband, contact or call 651-797-7812.
Nursery Volunteers

Serve as little as 6 to 12 times a year or just during the summer or winter. We are flexible. Volunteers are greatly needed at both Arden Hills and Roseville campuses to accommodate the growing nursery need. Serving in the nursery is a great way to impart God's love to the next generation while also blessing a parent as they take their next right step in following Jesus. Contact .
Treasured VBS Crew Leaders
Monday–Wednesday, June 21–23, Arden Hills
You can help make a difference in our Children's ministry by becoming a Treasured VBS Crew Leader. It is a great way to begin. Many roles are available for all ages and abilities!

North Heights Chorale
Do you enjoy singing with a choir? The North Heights Chorale is adding more singers. To audition, contact Dwight Williams, the North Heights Choral Director at . Rehearsals are held Wednesdays, 7pm, Arden Hills Choir Room 133.
SMALL GROUP LEADERS & CO-LEADERS
Have you been with North Heights for a while? Are you familiar with being led by the Holy Spirit and have good knowledge of God's Word? The next generation of Christ followers needs you. Will you prayerfully consider becoming a Small Group Leader or Co-Leader to walk alongside others in their faith? North Heights offers training and resources. Contact Pastor Jordan at .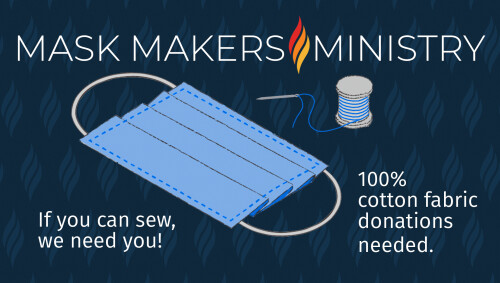 MASK MAKING MINISTRY
When we begin worshipping together in our buildings, face masks will be encouraged for a season for the comfort of others. If can sew, we need your help to make face masks. Email and include how many masks you will create and when they will be completed.
FABRIC DONATIONS
100% cotton fabric needed to make face masks. If you have or need fabric, email .
FOOD MINISTRY
Volunteer drivers needed to deliver food items from retail stores to organizations in need for the Wings of Nutrition food ministry. Both regular route drivers and back-up drivers needed. Contact Dick Jacobsen at 612-310-6227 or 651-633-6195.
MEALS ON WHEELS
Substitute drivers needed for approximately one hour every third Friday. Call Jim Maass at 763-786-5425.
MILITARY TROOP SUPPORT
Citizens Supporting Our Armed Forces (CSOAF) ships care packages to troops all over the world every month. Drop off items (hygiene items, protein bars, coffee, jerky, wet wipes, etc.) at the donation bin at Arden Hills Door B and Roseville Narthex. Contact Bob Schule 651-295-9711.