Thanks to your generosity, North Heights has collected piles of blankets and bedding for our ministry in the inner city, Little Earth Sunday School. This has been a ministry on the move for years, and God has been powerfully present through the ups and downs. Hear from the North Heights part-time Staff Member Karl Gertz about how God has been moving: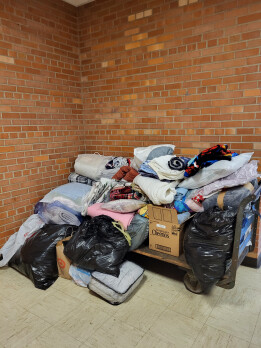 Blankets and Bedding Donated
I started at Little Earth 14 years ago on Christmas. North Heights was having a craft fair in the gym at Cedar Avenue for the 10th year, and the whole community was pulled into the love of Jesus through this event. The foundation of Little Earth Sunday School was already set by the people that came before me, and I just had to take the baton.
I believe we are now in the 25th year of North Heights' involvement with the moms, dads, grandparents, and, most of all, the kids in the inner city. This audience that we serve are families that could use a little direction from our Heavenly Father (in the end, we all could use some direction). At different seasons, ministry has been difficult, but keeping our focus on Jesus is always the answer. We can always find a reason to not do what God has called us to do, but it sure feels good when you're obedient to the call on your life. Over the last 2+ years of Covid, we weren't able to have Sunday school in the building, so we've done it outside when the weather has cooperated.
Our focus has been more on the community and event-based ministry with school supplies, a blanket and bedding drive, Christmas stockings filled with treats, toys and love, gingerbread houses, and Christmas cards.
In the spring, baskets filled over the top with love and goodies. On Resurrection Sunday, doors were opened to new life with Christ that only comes from a friendship with Him.
We've also had barbecues with the community in the spring and fall. This summer, we had water balloon battles with over 1200 water balloons! Being in relationship with Jesus is always what it's all about. His presence is always there, and I wouldn't have it any other way!