Adults
---
Whether you are exploring the Christian faith, desiring to know God's purpose for your live, or find ways to lead your live with eternal significance, North Heights offers ways to connect with God and others as you explore, discover, and grow in your faith.
Below are events and classes that are currently offered or offered throughout the year. Check classes or the event calendar for current offerings.
---
Events

Seed Sowing Saturday

Saturday, March 6, 10am to noon, Arden Hills
Did you know that natural MN grasses block 80% of the light to reach the ground and prevent the spread of invasive Buckthorn trees? Plus, natural MN grass seed can be harvested and sown at other areas of the campus. As a community, we will come together for a spiritual seed sowing time of devotions and reflect on Scripture while we sow prairie grass seed to minimize the spread of Buckthorn in the wooded areas of our Campus. Volunteers of all ages are needed. This would be a great spiritual and practical experience for the whole family. Seed sowing can be done on snow cover or without snow. Masks will be required while we gather for instructions, devotion and prayer by the playground area. Contact Mark Gregory at 651-208-6248
---
Sundays

GENESIS
Sundays, 10:45am, Roseville
Todd Jones leads this in-depth Genesis Bible study. You'll develop a better understanding of the LORD's grace and His salvation to mankind. Many translations of the Bible with study notes since the King James Version have provided us the ability to re-examine Genesis and discover what New Testament writers wanted us to understand. Class includes teaching and small group discussion. Contact Todd Jones.

GrowthTrack (100-400)
Jesus tells us it's "now time" to be making an eternal impact in the lives of those around us! GrowthTrack is our transformational series of classes that will equip us as we engage in God's vision for North Heights as devoted followers of Jesus. This class series is for everyone of all ages who calls North Heights home.
In each GrowthTrack class, we will connect with God and each other as we are encouraged by God's Word and empowered by the Holy Spirit. We will be equipped to bring God's love, hope, healing, and freedom to the people who so desperately need it.
North Heights Vision
Led by the Holy Spirit, North Heights engages all people to find faith in Jesus, discover their God-given purpose, and equips them to lead lives of eternal significance.
GrowthTrack 100
This class series helps us understand what the North Heights Vision means and how to live it out.
101–Find Faith in Jesus (January)
102–Holy Spirit (February)
103–Discover Purpose (March)
104–Live Eternal Significance (April)
GrowthTrack 103-Discover Purpose

March 21, Arden Hills, 9am
March 21, Roseville, 10:45am
In this third of four GrowthTrack 100 class series, Pastor Jordan engages us to explore:
Why are we here?

What is God's purpose for our lives?
During this class, we will connect with God and each other as we engage in God's Word and be empowered by the Holy Spirit to be equipped as devoted followers of Jesus.
GrowthTrack 200
Holy Spirit (Fall 2021)
201–Healing
202–Sharing your Faith
203–Prayer
204–Hearing the Voice of God
GrowthTrack 300
301–304: Healing (Winter 2022)
GrowthTrack 400
401–404: Prophesy (Spring 2022)

Hearing the Voice of God
Sundays, March 14, April 11, 9am, Arden Hills, Great Hall South
A great class for discovering God's unique ways of communicating with us and strengthening our relationship with God. Laura Solberg leads this class through Bible teaching and class discussion.
Contact Laura Solberg.

The Devil in Bible and Christian Teaching
Sundays, February 28–March 21, 9am, Arden Hills and 10:45am, Roseville
The Devil is not often a subject talked about in churches, yet the Devil is real and active today. As followers of Jesus, what is our position against evil, demons, and Satan? What does the Bible teach about the Devil?
Don't miss this four-part series taught by Dr. Walt Sundberg who will increase our understanding of:
What the Bible teaches about the Devil
What Christian teaching, such as Augustine and Luther say about the Devil
What is the Devil today
Dr. Walt Sundberg is Luther Seminary Professor Emeritus of Church History, the author of The Bible in Modern Culture and Worship as Repentance, and a former Como Park Lutheran Church Pastor.

Grandparenting Matters
Sundays, March 7 - May 2, 9am, Arden Hills, Fireside Room
Are you a grandparent or soon to become one and looking for a unique way to share your faith with the next generation? Come to Grandparenting Matters. This class-series, facilitated by James and Barbara Hurd can help you become an intentional Christian grandparent to reach your grandchildren during these challenging times. Biblical principles will equip you with ways to pass on your faith and reach the hearts of your grandchildren as a Christian grandparent.
Grandparenting Matters will teach you to "Grandparent on Purpose" and leave a legacy of faith with your grandchildren. This class will awaken God's design for you as a spiritual influencer in your family to reach across multiple generations. You'll engage with others in small group discussion, share ideas, pray together for your grandchildren, and learn from each other's struggles as grandparents. You'll be affirmed in what you're already doing with your grandkids and be encouraged with inspiration, ideas, and tools to help you seek God as you become the grandparent He created you to be.
Grandparenting Matters DVD topics include:
Influence of a Grandparent
What the Bible Says About Grandparenting
Reaching the Heart of Your Grandchild
Overcoming the Barriers of Distance
Eight Best Practices of Christian Grandparents
Becoming an Intentional Christian Grandparent
Grandparenting Matters DVD instructor, Larry Fowler, is the founder of the Legacy Coalition, a national grandparenting ministry. He has over 40 years ministry leadership as a youth pastor, missionary, trainer, international director, and senior executive for Awana. Larry and his wife, Diane, live in Riverside, California. They have two children and seven grandchildren.
James and Barbara Hurd are Bible school graduates, missionaries, small group leaders and teachers. Together they are parents of three adopted children and eight grand children.
Purchase: Grandparenting Matters workbook
Contact Barbara or James at 763-783-5848.

NEW MEMBER CLASS
Ever wonder what North Heights is all about? Want to become a member? Learn more at the next new member class. Contact Sparky Theis at .
---
Tuesdays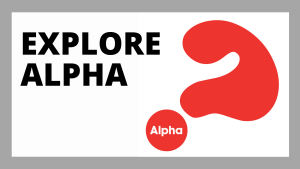 Winter Alpha
Virtual Alpha
Meets Tuesdays, January 19–March 23, 6–8:30pm, Zoom
Alpha explores the basics of the Christian faith in an open, friendly and informal environment. Weekly sessions include announcements, songs and movie, followed by small group time. Invite friends! Contact Mark Gregory or 651-208-6248 for Zoom link.
Alpha Weekend
---
Thursdays
YOUNG AT HEART
God is Our Shelter in Times of Storm
Thursdays, February 4–June 24, 10:30am, Arden Hills
Spirit-filled seniors (adults 50+) meets weekly for friendship, fun, and Bible study. Details>
Our Bible studies this year will help us:
Tap into the gifts of the Spirit to enable us to do the work God has called us to
Be responsive to God's leading to do His work wherever we are
Recognize how God engages us to connect with our key family members
Prepare the next generation for Christ through grandparenting
Draw our strength from God to overcome challenges as we learn from Old Testament warriors: Ruth, Elijah, and Esther
Take heart knowing that our Heavenly Father has all we need
Equip our minds and hearts for the important work God has for us this year

Dinner For 6
April-July
Dinner for 6 is a way for you to get connected with a few others at North Heights. Register by March 15. After registration, your group leader will contact your group for a time to meet. Then the group will meet three times between April and July over dinner.

Financial Peace University
This 9-week course by Dave Ramsey will help you learn to get out of debt, pay your bills, take control of your money and invest for the future. You'll connect with others, just like you, who can hold you accountable, encourage you, and celebrate your progress!
Cost: $99 (Limited scholarships available)

MN Crossroads Career Ministry
Are you unemployed or underemployed?
North Heights is one of three MN Crossroads Career Network ministry locations with one mission: Helping people with job transition, training ​and networking. The purpose of MN Crossroads is to help misemployed and unemployed people throughout the Twin Cities with effective strategies and resources for a job search, while helping them hear and follow God's calling in their life and their work. If you are a job seeker, there is a job board with numerous opportunities and events. If you are an employer, there are ways to find great candidates.
Currently MN Crossroads Career Network events are currently online and easy to access. Visit our events calendar and classes for upcoming opportunities. For more information about MN Crossroads Career Network, visit: MNCrossroads.com.
THE DANIEL PRAYER
Contact Dave Krammer at 651–786–0536.