Adults
---
Whether you are exploring the Christian faith, desiring to know God's purpose for your live, or find ways to lead your live with eternal significance, North Heights offers ways to connect with God and others as you explore, discover, and grow in your faith.
Below are events and classes that are currently offered or offered throughout the year. Check classes or the event calendar for current offerings.
---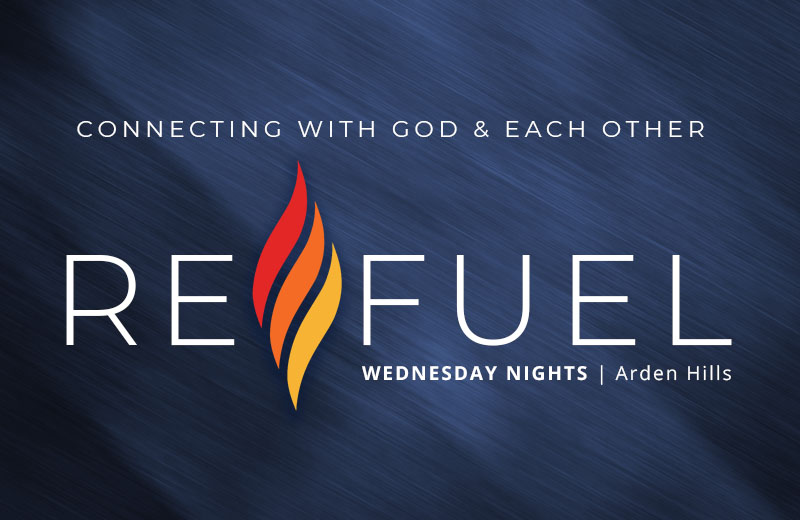 Refuel Wednesday Nights
Wednesdays, Sept 15-May 4, Arden Hills
Meal: 5:10-6:30pm, Great Hall
Ministries for Men, Women, Adults, Students and Kids: 6:30-8pm
---

Alpha
New to the Christian faith or exploring the faith? Explore Christian faith basics in an open, friendly and informal environment. Meet new friends and grow with others. Dinner followed by a short film and discussion.
Weekly Classes
Wednesdays, September 22-December 8 (except Oct 20)
6–8:30pm, Arden Hills, Fireside Room
Meetings include food, video talk and small group discussion. Contact Elaine Gregory, 651-442-1202.
Weekend Retreat
Saturday, November 6
A weekend away with teaching about the Holy Spirit, time for building friendships and some fun recreation. Contact Elaine Gregory, 651-442-1202.
---
Bible Study: Book of Acts
Wednesdays, September 15-May 4, 6:30-8pm, Arden Hills
Acts is a wonderful Bible study for teens through senior adults who are interested in how the gospel reaches others when the Holy Spirit works through God's people–you and I–the church. This intensive 20-week journey through the book of Acts can inspire and equip you to share your faith through the living in and through the power and leading of the Holy Spirit.
Prior to each class session, you'll receive a study questionnaire that we will address during class with supportive information that will help us navigate this journey through Acts.
Bill Pratt achieved his BA from Stanford University and his Masters in Divinity from Luther Seminary. After servicing as an Air Force Officer, he was a Pastor at East Immanuel Lutheran for over 30 years and was an Adjunct Professor at Northcentral University in Biblical Studies. Currently he is coaching track and cross country at Mounds View. Bill is married to his wife, Rita, and has three sons and five grandchildren.
---
Friday Morning Adult Bible Study
Fridays, 9am-12pm, Sept 17–May 6, Arden Hills, Room 217
This year our Bible studies will focus on Apologetics, starting with "Evidence That Demands A Verdict." This six-week study is updated and expanded from its original. This is a great study for anyone who would like share facts about the Bible and Christianity with others in a spirit of love and truth. Invite your friends! Contact David Krammer, 651-332-0257.
---
Luther on the Christian Life
Sundays, Sept 19-Oct 3, 9am, Arden Hills, Great Hall
Sundays, Oct 17-31, 10:45am, Roseville, Fellowship Hall

The great 16th Century Reformer Martin Luther was a great preacher and writer who gave practical advice on living day to day according to the guidance of scripture. This three-week series will explore what he has to say about: marriage and family, daily work, and politics.
Whether you are new to your faith in Jesus or are mature in your faith, whether you are a student or adult, Luther on the Christian Life, taught by Dr. Walt Sundberg gives unique perspectives about Luther that are not commonly known.
Dr. Walt Sundberg is Luther Seminary Professor Emeritus of Church History, the author of The Bible in Modern Culture and Worship as Repentance, and a former Como Park Lutheran Church Pastor.
---

Faithful & Fit
Sats, 8–9am, Arden Hills Gym or Zoom
Men and women are invited to this easy-to-follow Christian fitness class to improve or maintain your health with exercise. Includes wellness tips, devotion and prayer. Invite a friend.
Contact Bernice Baker, 651-402-5986.
---

LIFE IN HIS PRESENCE
Watch recorded classes from September 2020-February 2021.
---
---

NEW MEMBER CLASS
Ever wonder what North Heights is all about? Want to become a member? Learn more at the next new member class. Contact Sparky Theis at .
---

YOUNG AT HEART
Thursdays, September-June, Arden Hills
Spirit-filled seniors (adults 50+) meet weekly for friendship, fun, food, Bible study and entertainment. Lunch available for purchase afterwards.
Contact Vickie Bomgren, 612-850-9458.
---

MN Crossroads Career Ministry
Are you unemployed or underemployed?
North Heights is one of three MN Crossroads Career Network ministry locations with one mission: Helping people with job transition, training ​and networking. The purpose of MN Crossroads is to help misemployed and unemployed people throughout the Twin Cities with effective strategies and resources for a job search, while helping them hear and follow God's calling in their life and their work. If you are a job seeker, there is a job board with numerous opportunities and events. If you are an employer, there are ways to find great candidates.
Currently MN Crossroads Career Network events are currently online and easy to access. Visit our events calendar and classes for upcoming opportunities. For more information about MN Crossroads Career Network, visit: MNCrossroads.com.
---