Refuel
---
Connecting with God and each other
Refuel Wednesday Nights has classes for adults, programming for kids and students and a nursery (ages infant–3).
Join us at 6:15pm for worship in the Worship Center and then meet with your class until 8pm. (As soon as COVID-19 guidelines permit food service, meals will resume at 5:15pm.)
Bible Study
2 TIMOTHY
Wednesdays, January 6-February 10, 6:30-8pm, on zoom
Bill Pratt teaches this seminar-type setting with small group discussion geared for mature Christians. This Bible study will deepen your understanding of Paul's writings to Timothy.
Paul wrote 2 Timothy from prison out of his concern for Timothy, the needs of the church Timothy pastored, the Gospel be safe-guarded, and that the church be established on a solid Biblical foundation. Paul urges Timothy to be faithful to the Gospel in the face of hardships, desertions and error.
2 Timothy has practical applications for anyone who wishes to grow in their faith and share it with others.
OUTLINE
Suffering for the Gospel (2 Tim. 1:1-15)
The Discipline of Discipleship (2 Tim. 2:1-13)
Enlightened Leadership (2 Tim. 2:14-26)
Dealing with Times of Stress (2 Tim. 3:1-13)
Apostolic Characteristics (2 Tim. 3:14-4:5)
Living a Sacrificial Life (2 Tim. 4:6-22)
This Bible class aims to help you:
Understand and live out the Word of God
Experience the benefits of 2 Timothy 3:16: Doctrine, reproof, correction and training in righteousness
Be a doer of the Word as well as a hearer (James 1:22)
Stir up one another to love and good works, exhorting one another (Hebrews 10:24-25)
Be filled with Jesus and His Word and desire to share Him with others
Each session concludes with intercessory and healing prayers and petitions. For more information or Zoom link, contact Bill Pratt.
Bill Pratt achieved his BA from Stanford University and his Master of Divinity from Luther Seminary. After servicing as an Air Force Officer, he was a Pastor at East Immanuel Lutheran for over 30 years and was an Adjunct Professor at North Central University in Biblical Studies. Bill is married to his wife, Rita, and has three sons and five grandchildren.
Classes
What's Next?
Know God, Find Freedom, Discover Purpose and Make a Difference
Wednesdays, January 6-February 10, 6:15-8pm, Arden Hills or Zoom
We are all on a journey. At some point we meet unexpected twist and turns, such as a health crisis, the loss of a spouse, or the end of a job. For some of us, we detour from the path God had planned for us. Then we grow tired and not sure which way to go, or how to find our way back. We ask, "Now what? What's next?"
Whether you are new in your faith or have known Jesus for a while, this six-week video/book study by Chis Hodges can help you discover a deeper relationship with God that can lead you to a more purposeful, joyful, and significant life.
You'll take a journey to know God, find freedom, discover your God-given purpose, and make a difference in your world through the What's Next DVD-teachings, book and study guide, small group discussion and Spirit-led prayer.
This class is facilitated by Connections Coordinator, Cindy "Sparky" Theis and will be offered at North Heights or virtually on Zoom. Contact Sparky Theis for Zoom link.
Cost: $25/book and study guide. (Limited scholarships available.)
Video and book author Chris Hodges is the founding and senior pastor of Church of the Highlands. He is passionate about church planting, coaching and ministry training. Chris and his wife, Tammy, have five children and reside in Alabama.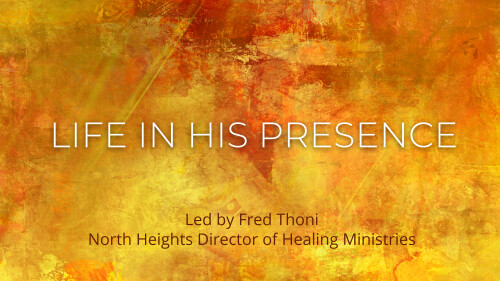 LIFE IN HIS PRESENCE
Wednesdays, January 6-February 10, 6:30-8pm, Arden Hills or Zoom
A terrific class for anyone desiring to know more about the present-day work of the Holy Spirit, the gifts of the Holy Spirit, and His presence and power for our daily lives. There will be a time of teaching, Q&A, and time to put the teaching into practice.
No registration or cost. This class is open to all. Just come with an open and willing heart. For more information or Zoom link, contact Fred Thoni.