Alpha is a gigantic ministry with groups meeting across the entire world. Like most beginnings, it started small: at a London church in 1977.
In the late 90s, Minnesotans who had been living in London brought Alpha back home to North Heights. One dedicated warrior prayed Alpha into our church where it was enthusiastically embraced. In fact, North Heights was the site of the first Alpha conference in Minnesota.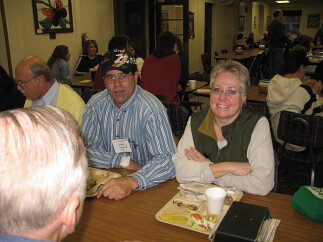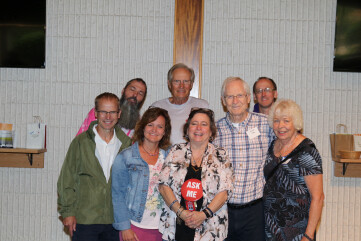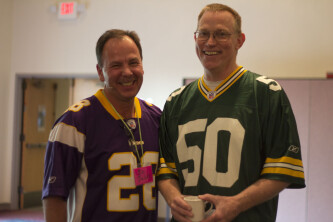 Alpha has now been part of North Heights for 25 years, and the team behind it is fiercely passionate about the premise of it: bringing people from outside the church in. Over the years, the Alpha team at North Heights has certainly done that.
Mark Gregory once drove a homeless man to Alpha for 10 weeks. That man is now in Heaven.
A woman named Susan once invited her hostile neighbor who was struggling with mental illness. After attending Alpha and church services, he came to faith, is free of addiction and mental illness, and is on fire for the Lord.
Another man was the top dog of freemasonry until he went to Alpha and gave his life to the Lord. His dying wish was to get his friends set free.
A Buddhist man came to Alpha with not much interest and then not only came to the Lord but became a strong evangelist himself.
Alpha attenders have brought drug dealer friends that found Jesus. People have been healed, and several have been baptized with the Holy Spirit.
The stories are truly endless over the last 25 years. To see a 10-minute video of stories from the Gregorys, click here.
Some outside the church have discovered Alpha through promotions, online, or through other divine encounters. Most are invited by friends, co-workers, or neighbors.
Mark Gregory describes Alpha as the greatest evangelism tool; it's all about inviting others. Mark explains that the daunting task of inviting strangers and neighbors could be as easy as saying, "Come and see what this is all about."
The key is that you can belong before you believe at Alpha. It's a safe place of belonging for everyone, regardless of faith or background. Some may even call Alpha training for believers and seekers alike. The course equips others to share their faith, pray for healing, and be ministers of the gospel. When people do come to new life in Christ, they are already prepared to go out and bring other people to Him, and the cycle continues.
Even with all the success, all the people invited and saved, the Alpha story isn't over. There is so much potential for more healings, transformations, freedom, and salvation here at North Heights.
What was the key to Alpha's success over the years at North Heights? People were on fire to share their faith and invite other people. People in the church caught the vision and joined Alpha with the intention of bringing others to have discussions, experience community, and encounter Jesus.
"I want our church to embrace that again," Elaine Gregory says. "It has to come from within."
Alpha happens every Wednesday night with dinner starting at 6pm. Who can you invite this year?