Fervent Women isn't a club. It's more than a small group. It doesn't neatly fit the definition of a Bible study.
Fervent Women is a community of women passionate, ardent, fervent about God and the betterment of each other.
The group was formed out of a need to rebuild community after the pandemic. For human beings to feel loved and connected, some research suggests we need to be within 6 feet of other humans. The pandemic broke that connection, forcing us 6 feet apart. Fervent Women is the avenue in which to not only get physically closer but spiritually and emotionally closer.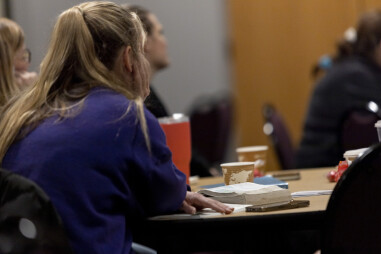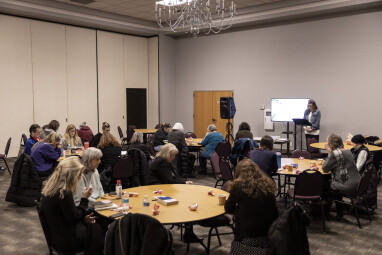 Ginny Runeberg was part of the team that saw the need for community and acted, birthing a new, living, vibrant ministry. The secret success of this ministry is the ladies' ability to be real, and Ginny gets real about her beginning involvement: "When TJ asked me, I was like 'absolutely.' But I wasn't expecting to be one of the leads."
Even so, God placed Ginny on the leadership team of Fervent Women. After historically working with children, she at first questioned, "Do I know how to work with women?! I work with kids all the time!"
At heart, we're all just kids looking for a place to belong. No matter age or life circumstances, women need a space to belong and simply be. Belonging together eventually leads to passionately seeking and living a life that is hungry for God and doing that together.
Ginny talks about how Fervent Women is a safe place for women to take off their masks (literally and figuratively!) and have a connection with the women in the church. Susie Anderson, another leader of Fervent Women, emphasizes that the vision is for those outside the church too; the heart of the group is sharing Jesus with people outside the walls of the church and adding them to the group. Fervent Women is for the churched and unchurched alike.
Fervent Women is for the churched and unchurched alike.
"More people need to know the truth. The church kind of forgot that we need to share that with people outside our walls. I don't know how we forgot that, but we did," Susie says frankly.
Sometimes the obvious needs to be emphasized. Fervent Women prioritizes helping women find their gifts and talents so that they can be internally encouraged and confident and externally motivated in their daily-life ministry.
The hope is for this community of women to grow. It's a community of joy. Laughter. Intimate discussion. Encouragement. Passion. It's a community you want to be part of.
Fervent Women meets every Wednesday from 6:30 to 8 at North Heights Arden Hills. Bring some friends, and join the community.